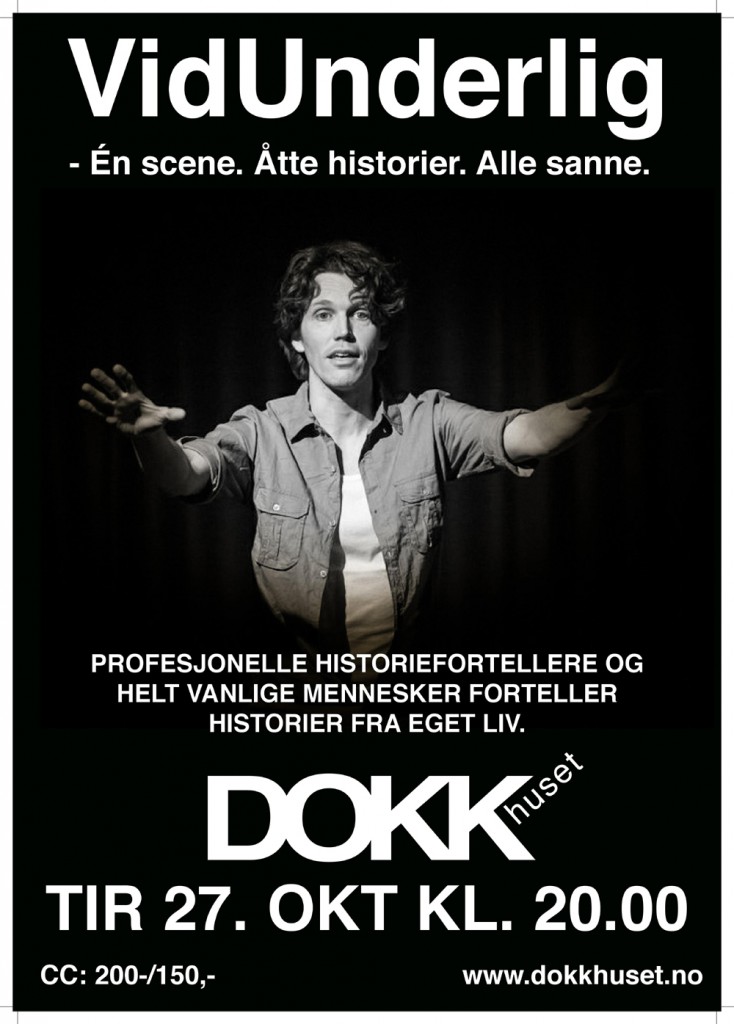 Personal stories. Lacking a global, unifying mythos it is these stories we grab a hold of, these we find recognition in, these we can mirror ourselves in.
The Moth, the New York-based club concept wandering like a…well…moth from drinking den to drinking den started a soon world-spanning trend with the tag line True Stories Told Live.
In Norway I was one of the organizers of the directly inspired concept Andre Historier (Other Stories) with the tag line Personal stories from lived, unlived and dreamt life from 2011 – 2014.
In 2014 the program Salongen aired on Norwegian national radio. Personal stories was part of the make-up of the show and soon they were organizing Moth-like events like Salonghistorier in Oslo.
Now the turn has come to Trondheim with the concept VidUnderlig (WonderFul). Here the tag line is One stage. Eight stories. All true.
My story is one of them. Come to Dokkhuset Tuesday 27th of October at 8pm!
Can't make it? And with four minutes to spare? Listen to one of my personal stories which was recorded by the radio show Salongen – Kiss of Life:
[audio:http://www.kloverknekten.no/wp-content/uploads/2014/02/Kiss-of-Life.mp3]