New performance in the works! Every year there is a great Christmas celebration at Akershus Fortress, with guided tours, activities and shows for all ages. This year the entire family can experience The Fifer's Christmas at The Museum of Defence the 1st and 2nd of December. An interactive storytelling performance starring me dressed as a fifer, sporting a willow flute.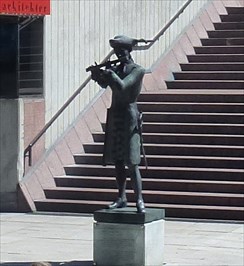 Fifer? What's that?
Glad you asked. In Oslo we have a bay called Pipervika. Piper is Norwegian for "fifer". The bay is just below the fortress, close to the town hall. There you will find a statue of a fifer. A flute player, in other words.
Since King Christian IV rebuilt Oslo and renamed it Kristiania after the city fire in 1624, Pipervika was the place where the drummers and fifers of the army stayed when the king came visiting with his army.
Any regiment with self-respect had musicians – drummers to keep the marching beat and fifers to create harmonies.
The Fifer's Christmas
Earlier this autumn, I was asked to make a new performance for the Museum of Defence, and I chose to make a new tale about a fifer and the Christmas he found a magical flute. One part history, one part fairy tale and a good portion of wonder for both children and grown-ups.
Come and experience The Fifer's Christmas at the fortress the 1st and 2nd of December. At 12 AM and 2 PM!