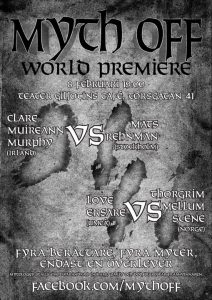 The eighth of February 2011 the concept Myth OFF had a world premiere in Stockholm. Four storytellers, four mythologies, a seriously informal competition. Together with Clare Muireann Murphy from Ireland and Love Ersare / Mats Rehnman from Sweden I took the stage brandishing my mythical scimitar of choice – Persian mythology.
Since then Myths have gone OFF all across the globe. Hungarian Csenge Zalka took the helm and has organized several Myth OFFs since, both in Europe and the United States.
This year, on the World Storytelling Day (and the spring equinox) the 21st of March there will be another Myth OFF. In Athens. Three Greek storytellers will enter the fray with Greek myths against Csenge (Mythology: The Nart saga – Theme: "FIRE"), Italian Mattia di Pierro (Mythology: Hebrew – Theme: "WOMAN") and me (Mythology: Inuit – Theme: "SEA")
Fire, Woman and Sea. The Greek storytellers are: Vasilia Vaxevani, Ifigeneia Kakridoni and Maria Tsorteki.
The event is held at Goulandris Museum of Cycladic Art in collaboration with ComicDom. Greek comic artists will illustrate the myths we tell live on stage.
Finally – here is a small mood report from the premiere eight years ago: