When:
03/21/2019 @ 16:00 – 22:00
2019-03-21T16:00:00+02:00
2019-03-21T22:00:00+02:00
Where:
Goulandris Museum of Cycladic Art
Neophytou Douka 4
Athens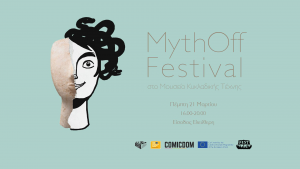 Comicdom Press and Athens Comics Library bring MythOff for the first time in Greece!
The ultimate, merciless battle of mythology comes to the Cycladic Museum and invites you to live it with free admission. Three narrators from abroad bring legends from all over the world against Greek mythology, which will defend three narrators from Greece.
At the same time, three comic creators are plotting live in the eyes of common works inspired by myths.
Who will win? This will be decided by the audience itself!
Narrators:
Mattia Di Pierro (Italy)
Torgrim Mellum Stene (Norway)
Csenge Virag Zalka (Hungary)
Vasilia Vaxevani
Maria Tsorteki
Iphigenia kakridoni
Artists:
Dimitris Kasdaglis
Eugenia Koumaki
Yannis Ruboulias
The festival is framed by workshops and speeches.
The festival is co-funded by FEST and the Creative Europe program of the EU.