When:
05/09/2019 @ 10:30 – 11:30
2019-05-09T10:30:00+00:00
2019-05-09T11:30:00+00:00
Where:
Asker Kulturhus
Strøket 15A
1383 Asker
Norge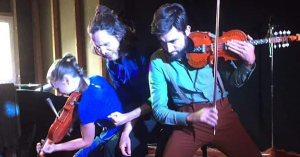 Torgrim Mellum Stene is a stand in for the fabulous Anette Sandvær in this performance.
Jack sees a beautiful mermaid in the sea, and immediately tries to figure out how to catch her. A man catches an unusual fish, in fact it's a wish fish! What happens if you get exactly what you wish for? Will it be like you imagined it?
The performance "Up from the Sea" is a musical storytelling performance for children braiding together two traditional fairy tale about meetings between man, the ocean, and what lives beneath the waves.
We tell the stories in a way where storytelling, music and dance become equal voices, while at the same time using some theatrical effects. In this way we want to give a big room for the imagination, at the same time giving the audience a dynamic meeting between folk music, folk dance and folk instruments.
"Opp fra havet" med Fortellevill from Anette Sandvær on Vimeo.
Performers: Torgrim Mellum Stene (stand in for Anette Sandvær), storyteller, Jon Hjellum Brodal, musician and dancer, Tuva Færden, musician and dancer
Director: Dominic Kelly
Producer: Fortellevill in cooperation with Riksscenen (Andreas Ljones)
Lights: Bohzidar Tsakov
Sound: Morten Brekke Stensland
Scenography: Fortellevill
Costume: Celine Austdahl