When:
02/01/2020 @ 12:00 – 12:30
2020-02-01T12:00:00+01:00
2020-02-01T12:30:00+01:00
Where:
Deichman Lambertseter
Cecilie Thoresens vei 19
1153 Oslo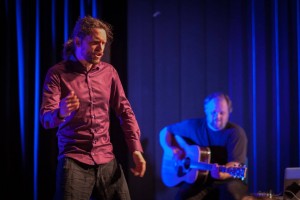 Every night Mr. Fox sneaks down from his den under the oak tree and into the enormous farms at the bottom of the valley to steal food for himself and his family.
One day the three farmers Boggis, Bunce and Bean have had enough. They decide to join forces to get rid of Mr. Fox once and for all.
But Mr. Fox is smarter and more fantastic than the farmers have given him credit for…
Suitable for children 4 years and up.
Storyteller Torgrim Mellum Stene and musician Morten Minothi Kristiansen have made a lively and interactive version of Roald Dahl's famous tale.
In this version, the audience become the children of Mr. and Ms. Fox and take part in the race against the three farmers. Who will win in the end?
The performance is a commissioned work by Deichmanske Library and premiered at the Oppsal division in October 2016. Supported by Lion's Club and The Municipality of Oslo.