When:
10/31/2020 @ 13:00 – 13:30
2020-10-31T13:00:00+01:00
2020-10-31T13:30:00+01:00
Where:
Deichman Bjerke
Refstadveien 70
0589 Oslo
Contact:
Deichman Bjerke
23 43 29 00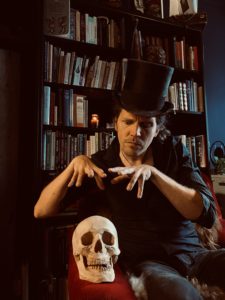 The sun has disappeared. Dark shadows lurk around every corner. Laughing witches in the distance. Come, venture into a world just like our own, just slightly more scary. It is easy to get lost in these parts. And when you do it's great to have a guide; the talking skull SkullnBones.
Performance storyteller Torgrim Mellum Stene has made this Halloween-performance where the children will participate in the story. Torgrim and SkullnBones will invite the audience to listen to and take part in a story of horrors and treasures galore.