T
he Digital Hobbit. What do I mean by that? Am I referring to a certain computer game jewel –
The Hobbit Software Adventure
from 1982, one of the greatest text adventure classics? Or a fingering hobbit?
No, ladies and gents and others across the board. I am hinting to the fact that my reading and telling of J.R.R. Tolkien's masterpiece that was cancelled by the House of Literature in Oslo because of current events will take place after all. But not in an analogue form. No. It will be streamed on the web!
Though not the kind of web that Bilbo and his dwarven companions got entangled in in Mirkwood, of course. We're talking of the world wide web.
My version of The Hobbit will be split in two parts. The first part will be available from Friday the 24th of April 6.30 PM and the other part from Saturday the 25th of April 6.30 PM. Keep yourself posted at
The House of Literature's website
and
facebook
. It will be possible to see and listen to The Hobbit for about a month. Suitable for ages 6-infinity.
Excerpts from The Hobbit are conveyed with permission from translator Nils Ivar Agøy and HarperCollins Publishers. © Norwegian edition Tiden norsk forlag A/S 1972

™©1990 Frank Richard Williamsom and Christopher Reuel Tolkien, executors of the estate of the late John Ronald Reuel Tolkien. Published by arrangement with HarperCollins Publishers Ltd.
This will be good, but not as good as The Hobbit Software Adventure: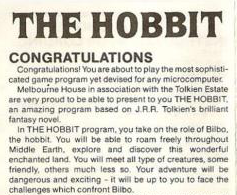 which you can play online here, by the way 🙂
[:]